Shoulder pain can be diverse in its symptoms and severity. Your pain may be as simple as a specific movement causing discomfort, all the way to severely limiting mobility and your ability to effectively complete daily tasks. Shoulder pain and mobility issue onset can be attributed to numerous different factors:
Regardless of the cause, our physiotherapy team is here to support you and treat your condition, for you to return to full capacity.
Take Ownership of Your Wellbeing With Our Shoulder Physiotherapist
Does lifting heavy items cause abnormal strain in your shoulder? Perhaps you're physically active where the sports you do result in minor injury in your upper arms? Our shoulder physiotherapist will help restore mobility and assist you on your road to recovery by targeting muscles, joints, and nerves.
Experience Optimal Health With Our Shoulder Pain Treatment
Besides restoring your range of movement and improving muscle strength, physiotherapy accelerates your body's natural healing process. These are some of the signs that you need to seek shoulder pain treatment from a professional physiotherapist:
Limited mobility. If you experience frequent and lasting pain associated with a specific movement, we will intervene so that you don't have to resort to drastic measures such as steroid injections. We offer a non-invasive treatment for conditions such as adhesive capsulitis, also known as frozen shoulder, which can be debilitating if left unattended.
Injuries. Whether the cause of your shoulder pain is from an injured or degenerating tendon, we provide therapy for ailments such as rotator cuff tears. In this instance, the muscles and tendons around your shoulder, that secure your upper arm bone within its shallow socket cause a dull ache that worsens when you use your arm away from your body.
Acute or chronic conditions. Among other maladies, we treat ailments such as bursitis, where the small, fluid-filled sacs that cushion your bones, tendons, and muscles near your joints become inflamed.
If you suffer from arthritis, a condition that worsens with age and causes the joints to swell and become tender, reach out to us to help you manage this disorder before it develops into related health problems bone spurs. Bone spurs are bone protrusions that extend along bone edges, mainly caused by osteoarthritis. Let's briefly look at the other common occurrences of this disorder.
Rheumatoid. This manifestation of arthritis affects your joints and may also affect your skin, eyes, lungs, heart, and blood vessels. It's classified as an autoimmune disorder, and because this form of arthritis affects the lining of your joints, it can progress to erode your bones and deform your joints.
Osteoarthritis. Osteoarthritis is the most common type of arthritis, which wears down the protective cartilage at the end of your bones until bone rubs against bone. It typically occurs in the hands, knees, hips, and spine causing pain, stiffness, and swelling.
Gout. This type of arthritis often causes pain, redness, and tenderness in the toes of the big toe. Attacks occur suddenly where the joint will feel hot and swollen.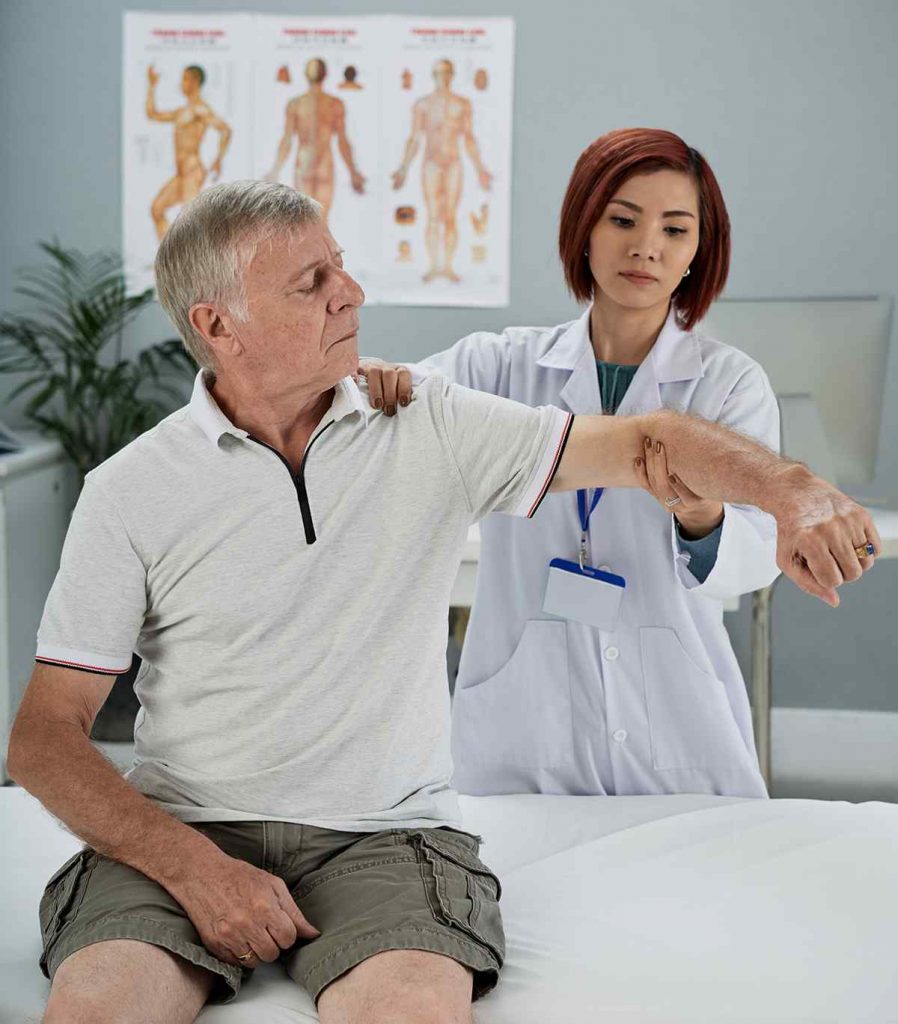 Restore Your Mobility With Our Shoulder Physiotherapist
Whether your joint, muscle, or tendon pains are because of genetics, caused by sport, work or an accident, or are a result of ageing, this is what we offer to repair and revitalise your wellbeing:
Assessment. When you engage with us, we will initially evaluate your condition to determine the underlying factors of what is causing you discomfort and pain. We do this diagnosis using movement-based tests.
Tailored treatment. We then establish which form of treatment, or combination of these would be the most appropriate and has the most chance of success to correct your ailment. Because we provide holistic care, we would supplement the recommended physio for shoulder pain with exercise programs such as clinical Pilates.
Endured achievement. As part of our CURE principles, we encourage you to participate in your recovery and prevent recurrence with our home care plans.
Attentive and Instructional Care, Try Our Shoulder Physio
We aim to empower you to take control of your physical well-being by offering effective and consultative treatment to have a better awareness of your body and make informed decisions. These are some of the other things that set us apart:
Experienced team. Our professional staff is proficient at assessing, managing, and treating shoulder pain. They are medically inclined and use up-to-date techniques such as mobilisation, manipulation, soft-tissue massage, trigger point therapy, and stretching.
Variety of treatments. We offer competent care for general physical, sports, and occupational injuries. We also treat vehicle injuries where you need rehabilitation after surgery by employing joint mobilisation and manipulation techniques, myofascial release, taping, and bracing. Your options also include dry needling in Melbourne, where we target the source of pain, by inserting a thin, flexible (single use) needle into the skin for increased flexibility, restoration of nerve and function, and promoting tissue healing and regeneration.
Collaborative approach. We help you achieve your physical goals through evidence-based practice to achieve results that exceed your expectations.
Our mission, vision, and values place you at the centre of our practice, where we devote ourselves to enhancing your quality of life based on your unique requirements. So, contact us for inclusive and innovative shoulder physiotherapy.
Book an appointment today
Start feeling better today and call Physio Cure on 03 8525 8360, email us at reception@physiocure.com.au or book online today to get one of our physiotherapists at our Elwood, Elsternwick or Beaumaris clinics to assess you professionally.
Helping improve chronic musculoskeletal conditions
Physio Cure is conveniently located in Elwood, Elsternwick and Beaumaris. Our contemporary clinics offer modern private physiotherapy treatment rooms, a fully equipped strength and conditioning gym and a bespoke open plan studio for Clinical Pilates at our Elsternwick location.