The Physio Cure team recognises the inconvenience and discomfort that neck pain causes, particularly with the rise of working from home with lack of appropriate ergonomics. Our professional team has years of combined training, bolstering our collective experience to give you the most comprehensive treatment possible.
Be it exertion from sporting, an odd nights sleep or too long at the desk, our team is committed to making your neck pain a thing of the past. We can do this through exercise plans, ergonomic recommendations, postural corrections and long term education.
We provide physio for neck pain and assist those who seek relief from soreness in their ankles, shoulders, back, legs, and knees. Make an appointment today if you suffer from pain.
How Our Neck Pain Treatment Can Help You
Neck physio
includes hands-on treatment, exercise such as clinical Pilates and home care plans, postural corrections, ergonomic advice, and education to improve your movement, flexibility, strength, joint range of motion and reduce pain in the short and long term.
Inappropriate ergonomics at home and in the workplace often result in neck pain. So do playing sports, an improper sleeping position, and spending lengthy periods at a desk or in the same posture. Our team offers a professional assessment of your condition and wide-ranging treatment options.
Our qualified physiotherapists have mastered diverse treatment modalities. They have extensive collective experience, enabling us to manage the problems affecting your soft tissues, nerves, joints, and muscles with the most current and appropriate techniques.
These include stretching, dry needling, trigger point therapy, soft-tissue massage, manipulation, myofascial release, bracing, taping, and mobilisation. We can help you mend and enhance your physical health by advising you on diet, fitness, lifestyle choices, and correct body positioning.
Additional therapies include electrophysical agents such as therapeutic ultrasound, interferential therapy that uses an electrical current to stimulate muscle and reduce swelling, and transcutaneous electrical nerve stimulation (TENS) therapy that employs low-voltage electric currents to treat pain.
Our physiotherapists aim to restore normal function to areas that do not work optimally because of environmental factors, disease, ageing, or damage caused by a car or other accident.
Physio Cure Treats Muscle Strains, Trapped Nerves, and Slipped Discs
With our therapeutic assistance, you can relieve neck pain and recover from a sudden impact, a muscle strain, or occupational, sports-related, and general physical injuries.
Our highly qualified physiotherapists can play a vital role in rehabilitation after someone has suffered severe physical trauma or undergone surgery. We offer practical treatment options for a range of conditions.
These include sciatica, headaches, whiplash, muscle imbalances, repetitive strain injury, inflammation, and joint conditions such as bursitis and arthritis, to name a few.
We will explain the reasons for your discomfort after we assess your condition and verify the underlying biomechanical causes. Then we will discuss your treatment options and a rehabilitation program.
We aim to correct the problem and speed up your body's natural healing process to get you feeling better as soon as possible and assist you to prevent a recurrence. We will suggest a thorough treatment plan tailored to your needs and goals.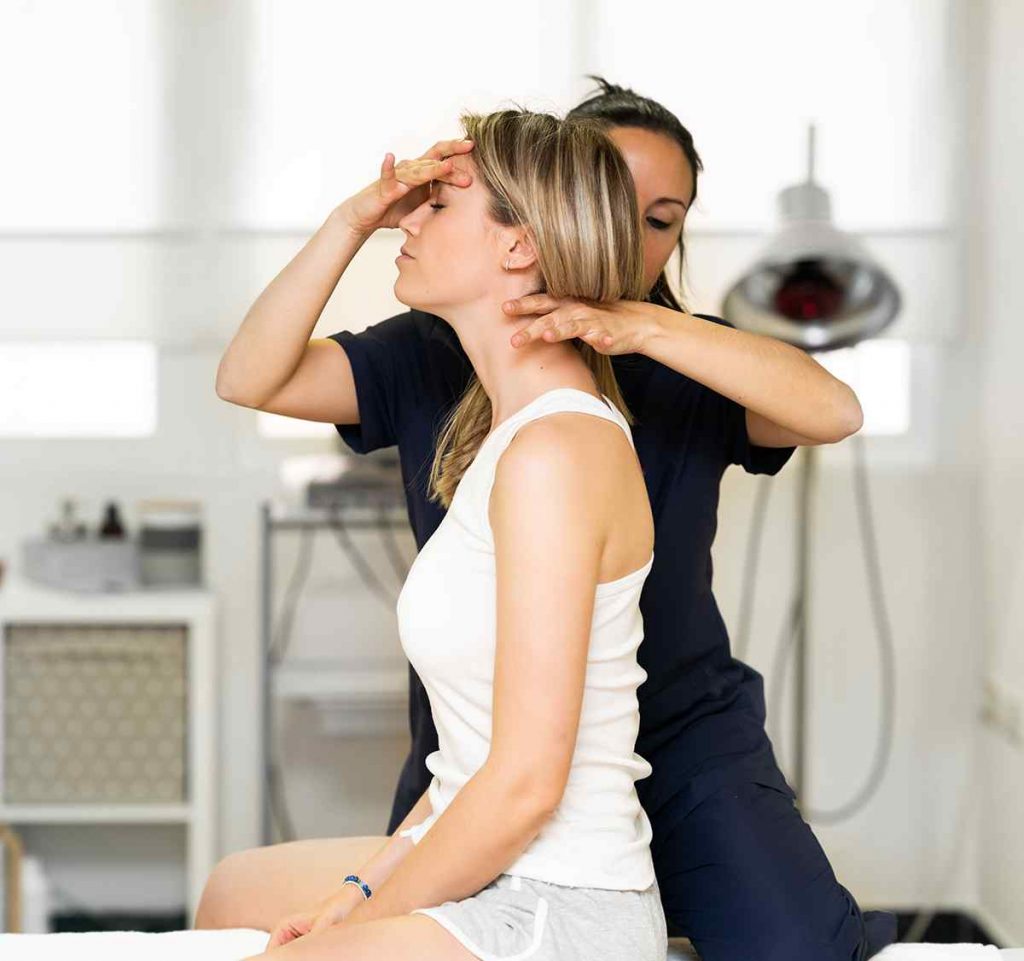 We accept all private health funds, and you may be eligible for a Medicare rebate if you have a chronic condition. View our FAQ page to find out when you may need a referral.
Contact us to book an appointment at a location near you or if you have questions about our unrivalled recovery techniques.
Book an appointment today
Start feeling better today and call Physio Cure on 03 8525 8360, email us at reception@physiocure.com.au or book online today to get one of our physiotherapists at our Elwood, Elsternwick or Beaumaris clinics to assess you professionally.
Helping improve chronic musculoskeletal conditions
Physio Cure is conveniently located in Elwood, Elsternwick and Beaumaris. Our contemporary clinics offer modern private physiotherapy treatment rooms, a fully equipped strength and conditioning gym and a bespoke open plan studio for Clinical Pilates at our Elsternwick location.