Clinical Pilates is a form of rehabilitation that is based on the Pilates methods developed by Joseph Pilates in the 20th century. Doctors often recommend Pilates after an injury, surgery or illness as a safe, effective way to rehabilitate and begin exercising again.
Pilates exercises can help you to improve your posture and flexibility, increase core stability and move comfortably with better control and balance.
Clinical Pilates is a modified form of exercise developed by physiotherapists to help with the rehabilitation and prevention of muscular injuries. Specialised equipment such as reformers and trapeze tables can be used along with floor exercises, and exercises performed on a ball. Spring-loaded equipment is a major component of clinical Pilates.
One of the major focuses of this type of therapy is the development of strength in the core muscles – the deep abdominal and pelvic floor muscles. Along with this, clinical Pilates focuses on postural education and allowing optimal movement in the body.
Benefits of combining clinical pilates with Physiotherapy
Clinical Pilates is great for supporting the body, off loading joins and leading to a reduction in pain. Exercises are low impact, increase muscle strength and support recovery for long-term results.
Pilates and Physiotherapy go hand-in-hand, often physiotherapy programs utilise similar exercises. Pilates is the perfect regime to incorporate into your rehabilitation journey.
As physiotherapists teaching Pilates, we have a unique perspective on the way people move and a detailed knowledge of postural problems. We understand how bodies heal and we know how and when Pilates can be safely used to improve recovery.
What can clinical pilates help with?
Before you begin your Clinical Pilates sessions, you will have an initial assessment with your practitioner. During the assessment, we will work with you to create a program that suits your level, needs and abilities.
Private Pilates, you can be assured that our experienced instructors will tailor a personalised class that includes exercises that are suitable to continue at home.
Benefits of semi private pilates:
Group Pilates, our classes are designed with form and fitness in mind. They are structured to help you understand your body and harness it's full potential for movement. Our instructors will work with you from start to finish, modifying and adjusting exercises based on what you need that day.
However, these sessions are designed with healthy bodies in mind:
What is Reformer pilates?
Utilising a Reformer machine whilst positioned on your back or side to execute movements that cannot be executed standing up. The machine uses springs and weights to cater exercises to desired level of difficulty.
Almost any exercise can be altered to a persons needs, injuries and fitness levels. Your instructor will guide you through each exercise to ensure proper alignment.
Pilates Classes Available
Class sizes can vary depending on your needs and comfort levels. We offer 1-on-1 and group classes for 1 hour, with the following class types: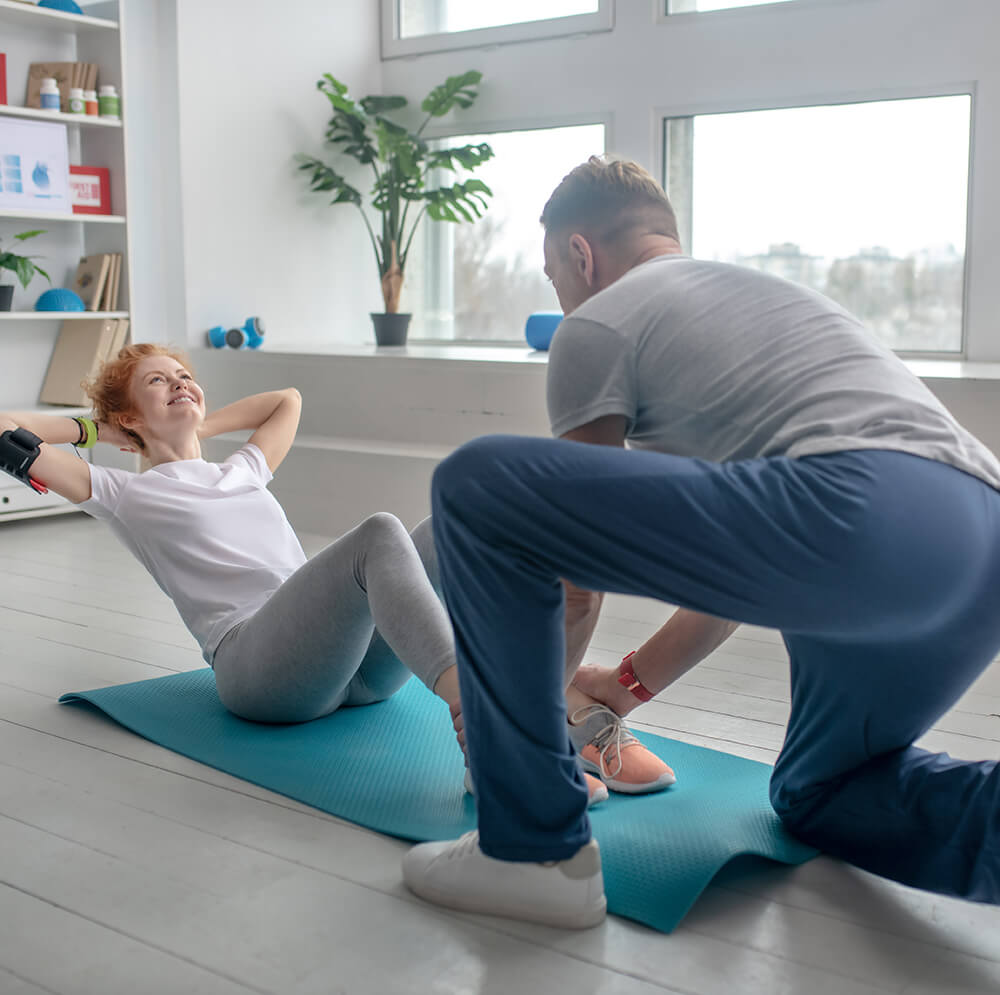 Is this covered by private health insurance?
A percentage of your Clinical Pilates fee may be covered by your private health insurer depending on your level of cover and your health fund.
To find out if you're covered for Clinical Pilates, call Physio Cure on 03 8525 8360, email us at reception@physiocure.com.au or visit one of our clinics and one of our friendly reception staff can complete an on-the-spot quote for you.
What to Know About Clinical Pilates
It is very common that injuries or major surgeries are followed by some form of rehabilitation exercise, to help get the patient through a healthy recovery. Clinical Pilates focuses on the specific patient's abilities and is modified to suit their needs to better assist with pain relief and posture correction.
Choosing the Right Clinical Pilates Studio
Getting the right treatment is important for recovery and we like to ensure that our patients are cared for in the most adequate way, that helps them feel conditioned towards a better quality of life. If you are feeling uncertain about what is necessary for you, here are a few things to keep in mind before you decide:
Focus on your specific condition – there are many different types of pilates (e.g. Physio, reformer and mat pilates) that are designed for different improvements, so it is important that you know your capabilities and what you are looking to work on.
Taking a beginner class first might be worth your while – it is not necessary, but it certainly might help you familiarise yourself with some of the moves and breathing exercises that are common in most types of pilates.
Your muscles might become sore or inflamed – this is due to the various exercises being dedicated to each movement in every small muscle. Pilates focuses on core weakness so you might find it to be strenuous, which is why it is important to pay attention to the stretching exercises that are incorporated in most of the sessions.
What Do We Do in Clinical Pilates in Melbourne
Pilates involves moving and stretching the major and minor muscle groups in the body, to help improve flexibility and core strength. We offer services that are dedicated to improving your physical health, by using various treatment options that are aimed at your specific needs. Here are a few examples:
Physiotherapy – focuses on treating problems or injuries associated with the joints, muscles and nerves. A Physiotherapist will assess your condition firstly, then proceed to offer treatment options that cater for your specific needs.
Reformer pilates – this type of exercise incorporates a reformer machine, which is used for improving core and back strength, flexibility and balance. It is a form of physical activity that can also assist with weight loss, and allows certain exercise moves to become more accessible.
Group pilates – if there is no specific type of physical ailment that you suffer from, then this is a great program for you. While you do use the same routines and movements as those in your class, group pilates can be quite encouraging and supportive. We offer these classes with up to 10 people at a time, so it can also prove to be more affordable.
We aim to offer optimal health treatments using the most appropriate techniques, designed to manage and restore normal functioning of the body. Visit one of our Elsternwick Pilates branches to experience our wide range of physiotherapy treatments, in a comfortable space that provides optimal health.
Contact us to find out more.
Helping improve chronic musculoskeletal conditions
Physio Cure is conveniently located in Elwood, Elsternwick and Beaumaris. Our contemporary clinics offer modern private physiotherapy treatment rooms, a fully equipped strength and conditioning gym and a bespoke open plan studio for Clinical Pilates at our Elsternwick location.