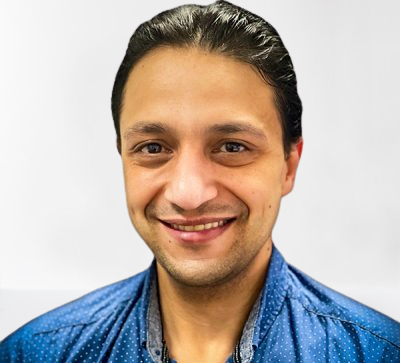 Dr Harry (Senior Physiotherapist | Practice Principal)
Dr Hany (or Dr "Harry" as he is known to everyone at Physio Cure) is our Practice Director, the Principle Physiotherapist, and the Founder of the brand name "Physio Cure".
Harry studied the Bachelor of Physiotherapy at Charles Sturt University in NSW and graduated with Distinction 90% – top of his class, and was awarded three times of dean merit award from both the University of South Australia and Charles Sturt University. He was also a member of Golden Key Organisation for high achiever students with both the University of South Australia and Adelaide University. Originally, a veterinarian doctor by background, where he graduated from Cairo University in Egypt in 2003 and is still registered as a veterinarian doctor in Egypt.
Harry's passion for physiotherapy actually arose from loving sports, as he treated thousands of people with various sports injuries including ankle, foot, knees, hips, shoulders, neck, and back injuries for over 5 years. Therefore, he was consulted by various sporting clubs in Adelaide such as Rugby, Soccer, Australian Football, Tennis, and Hockey, and has also participated in many sports events such as the Australian Master Games in Adelaide in 2015.
Harry uses different physiotherapy techniques and modalities including Shockwave Therapy, Spinal Traction table, Remedial Massage, Interferential therapy, Joint mobilisations and manipulations, Myofascial Release, Ultrasound, TENs, Paraffin Therapy, Exercise prescription, Gait aid prescription, Posture re-education and training and advanced Dry Needling. He believes that overall well-being results from a combination of physical hands-on therapy, clinical exercise, and empowering his patients towards self-management through education.
Harry was appointed by the University of South Australia to work as a staff Anatomy tutor for first-year students of various disciplines in 2015. It is this passion for both anatomy and physiology which inspires Harry to share his knowledge in these fields with his patients to assist them in better understanding their body conditions and aiding their recovery.
In 2022, Harry was a clinical educator for many students who did Certificate IV in Allied Health Assistance from different institutes specially Stirling institute. Harry has helped students to finish their degree by completing their clinical placement with him.
Casually, he has also worked as a clinical educator for 1st and 2nd year physio students who needed some clinical support to be good future physiotherapists.
Throughout his working career, Harry has received very positive feedback and has been awarded a star award in one of the aged care facilities he worked in. This was a result of him being able to walk a patient who was previously chair-bound for six months.
As with all hardworking and dedicated physiotherapists, Harry also takes the time outside of his work for some well-deserved rest and recreation! In his spare time, he enjoys playing his chess, playing piano, and musical composition, and spending time with his family.
Elsternwick
Mondays & Wednesdays 10:00am – 6:30pm
Thursdays: 1:00 – 6:30pm
Fridays: 8:00am – 1:00pm
Elwood
Tuesdays & Thursdays 8:00 – 1:00pm
Saturdays: 9:00 am – 3:00pm
Beaumaris
Tuesdays & Fridays : 2pm-7pm